Safari Tents (4-5 persons)
If you want the friendliness and freedom of camping, but on the other hand the luxury of a holiday home, we can offer you a fully equipped Safari Tent for up to 4-5 persons to rent.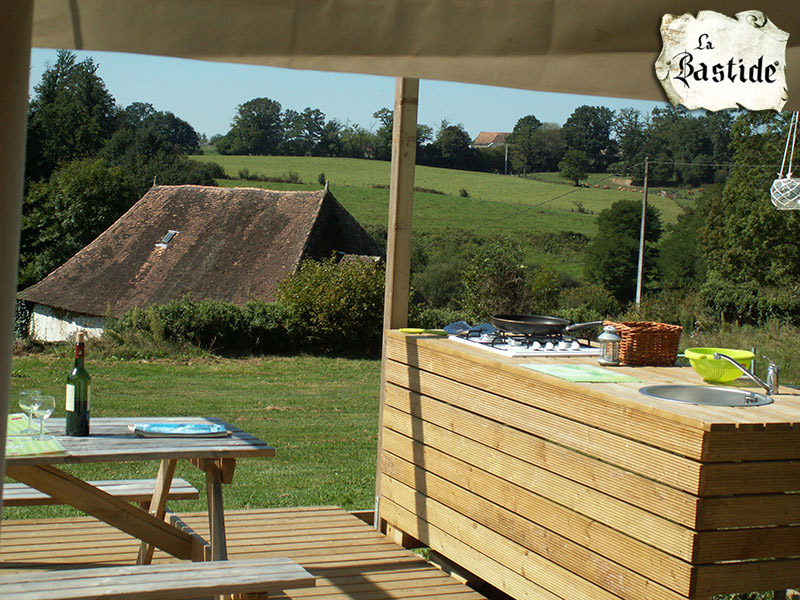 Safari Tents, interieur
The Safari Tents are very big, 40m2, and with full head height throughout. The floor area is about 6x6 metres and the tent is completely wood floored. At one end of the tent are two sleeping places where you can dream away the night on single boxspring beds, besides which is a little closet to place your belongings in.
To the front of the tent on the lefthand side there is a kitchen area with a refridgerator and double cooking element. There is also full cooking equipment in the dresser next to the refridgerator complete with glasses etc. Provided is also a table and four chairs for dining, these are also for outside use.
Furthermore there is a couch and chairs and a coffee table. In addition there are two sunbeds and a parasol.
The luxury Safari Tents have all the convenience you require: Wooden floors, Boxspring beds, Cooking facilities, refridgerator, glasses etc. And of course the all important wine bottle opener as well! - Every tent has standard electricity

Extras: Together with the other guests you can cool down in our small private river. There is also a cosy BBQ area for your use, whilst your supper is cooking you can drink something and dream away before the flames of the open fire.
Safari Tent prices & bookings
Prices starts at € 450,00 weekly, including electricity, heating and WIFI.
Please note below, the changeover day in the high season is Saturdays, before and after the high season you can book with a minimum of 3 nights.
Questions or more information?
Address:
La-Bastide
87500 Coussac-Bonneval
Limousin – Haute Vienne
France
Contact:
Eugen and Patricia de Jong
Tel: 0033(0) 555 755 568
Mob: 0033 (0) 610 093 019
e-mail: info@la-bastide.nl