About La-Bastide Holiday homes
La-Bastide is situated in the village of Coussac-Bonneval which is in the department of the Haute-Vienne, near the Dordogne and the Correze. La-Bastide (which means fortress) is situated 400 km South of Paris, in the middle of the triangle formed by Limoges, Brive and, the capital of the Dordogne, Perigeux.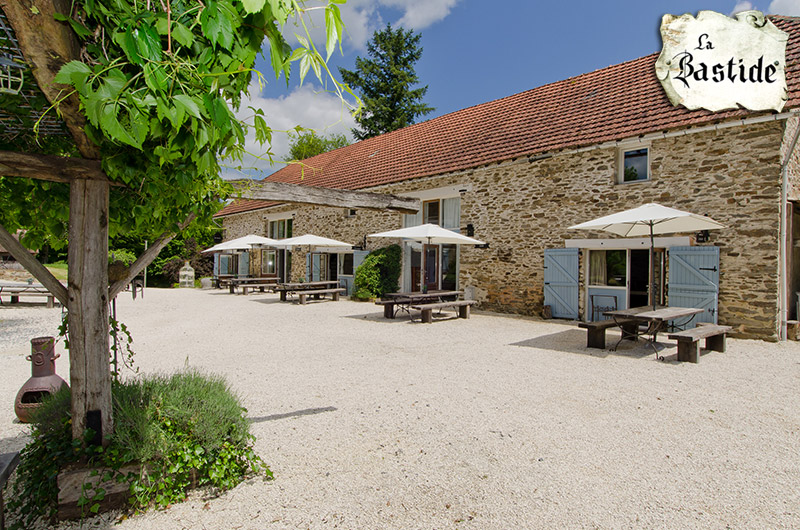 Within a 500 meter walk you will find a traditional bakery, butcher, a small supermarket, and a hotel with an excellent restaurant, as well as some wonderful cafes. Furthermore you will find lots of sporting activities like tennis, golf, swimming facilities, walking and mountain bike areas, and of course the famous fishing spots.
La-Bastide, Coussac-Bonneval on google maps. www.maps.google.com
The whole domain of La-Bastide (1.8 ha) which includes a small lake, was built in the 18th Century and reflects that traditional style but with the advantage of modern, up to date facilities.
So La-Bastide is your perfect holiday location, here you can experience silence, peace, nature, space and still have lots of great places to visit. These include castles, interesting villages (often Medieval) and all within a short distance.
At La-Bastide you will find different wonderful Holiday homes for minimum2 persons and maximum 10 persons La-Bastide uptill 2005 a farm and now a luxurious small-scale holiday resort.
Swimming pool at La-Bastide
At La-Bastide there are two swimming pools, The largest pool is 15 x 6 meter and the smaller one for the chidren 3 x 3 meter.
We like to welcome you at La-Bastide.
Questions or more information?
Address:
La-Bastide
87500 Coussac-Bonneval
Limousin – Haute Vienne
France
Contact:
Eugen and Patricia de Jong
Tel: 0033(0) 555 755 568
Mob: 0033 (0) 610 093 019
e-mail: info@la-bastide.nl