Holiday home Auvergne (2-4 persons)
Do you want to spend your holiday in the middle of a picturesque little French village? We've got a holiday home for rent, Gite Auvergne. Gite Auvergne is suitable for 2 adults and possible 2 children up to 8 years.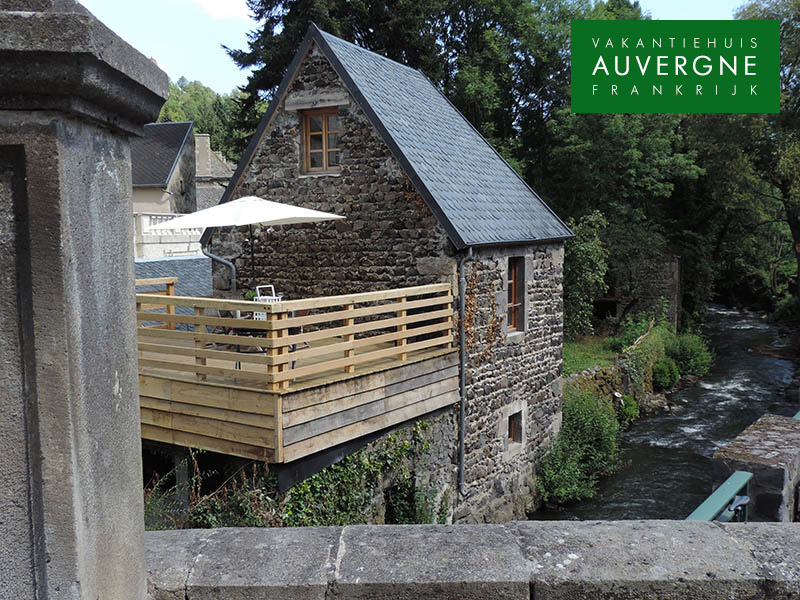 House Auvergne, details
Gite Auvergne is located in the French village of Murol in the Auvergne. The house is located in the middle of Murol en has a total of about 50 m2.
Layout Gite Auvergne
First Floor: Gite Auvergne is divided in 3 floors. At your arrival you take the outside stairs to the living area. Here you find a cozy living room with open plan kitchen, dinner corner and sofa. The kitchen is equipped with an 80 cm wide cooker, extractor hood, microwave oven and refrigerator. There is also a television with satellite .
At the top of the outside stairs you can also go to your wooden deck (20 m2) with a view at the village center and the running river La Couze Chambon.
Second Floor: In the living room you go up a solid oak staircase to the second floor. Here you find a cosy bedroom with a double bed , a sink and a toilet. The roof of the entire floor is sloping. In the ridge of the bedroom we made an extra bed where two children up from the age of 4 can sleep. That you enter by a rope ladder. It is also possible to place a cot in the bedroom.
Ground Floor: Here you find the bathroom with a wide walk-in-shower, a sink and a second toilet. The bathroom is only accessible from the outside. In the bathroom you also find a washingmachine and dryer.
Holiday home prices & bookings
Prices starts at € 450,00 weekly, including electricity, heating and WIFI.
Please note below, the changeover day in the high season is Saturdays, before and after the high season you can book with a minimum of 3 nights.
Questions or informations ?
Do not hesitate tot contact us. We will answer them with pleasure.
Description of the surroundings of Gite Auvergne
The house Auvergne is located in the picturesque village of Murol. This volcanic and tourist area is suitable for all seasons holidays.
In the summer there is a market every Wednesday at just a minutes walk. From the terrace you have a very nice view at the Chateau of Murol and the house is 5 minutes from the bathing and recreation lake Lac Chambon.
The region also offers beautiful hiking trails for a great hiking holiday, enjoy a picnic on a running stream or a beautiful lake. You can enjoy mountain biking, surfing and sailing. Plenty of opportunities to spend your holiday with.
Or you stay on your deck, enjoying a glass of wine and watching the lively activity of an authentic French village where you are in the center of. Within walking distance of t he house there are several good restaurants, a supermarket, butcher and bakery. Anything can be reached on foot.
For more information visit the website: www.vakantiehuisauvergnefrankrijk.nl
Questions or more information?
Address:
La-Bastide
87500 Coussac-Bonneval
Limousin – Haute Vienne
France
Contact:
Eugen and Patricia de Jong
Tel: 0033(0) 555 755 568
Mob: 0033 (0) 610 093 019
e-mail: info@la-bastide.nl